There's nothing better than streamlining your business through automation. I've tried all sorts of tools to make my business more efficient, and have settled on a handful that I can't live without.
I've written before about my personal recommendations for must-have business tools. In short, my favorites include: QuickBooks (bookkeeping), Podia (online course hosting), Honeybook (customer management), Acuity (calendaring system), ConvertKit (email management), Zoom (online meetings), and SmarterQueue (social media scheduling). Plus, as you can tell from this post, I'm a big fan of paper planners.
Those are my picks, but I'm a big believer in learning from others. So I asked other creative entrepreneurs what they use to simplify their businesses. Some of their responses were things I'm already using and loving, others were tools I'd never heard of (but will likely try). Here's a roundup of the must-have business tools these 21 bosses can't live without.
This post contains affiliate links. If you purchase via a link here, I'll get a commission.
The price is the same for you whether you use my link or buy directly from the vendor.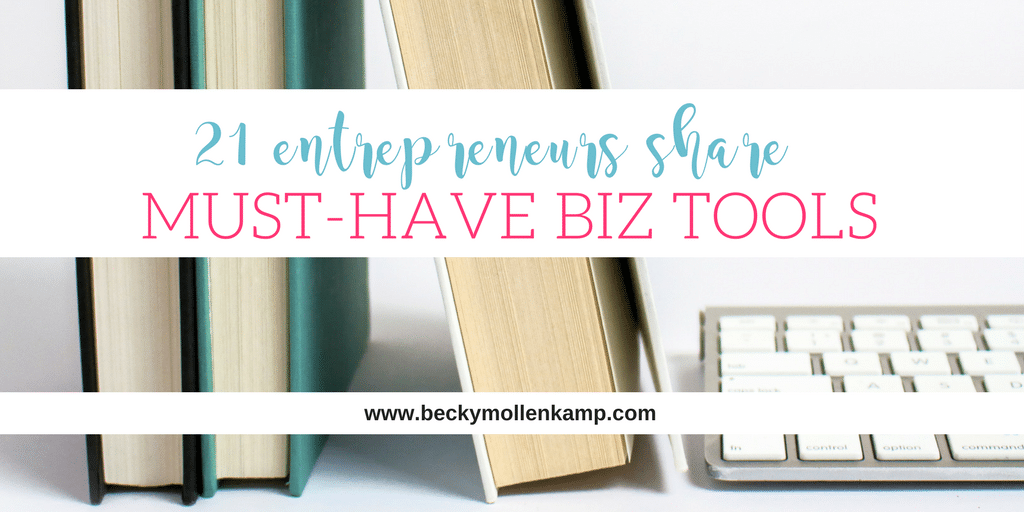 "I have been searching and searching for an affordable social media scheduler that will recycle content. I've tried many, many schedulers but I was never happy with what they offered, or they cost too much once the free trial was over. I have finally found a solution! SmarterQueue takes some time to get setup right in the beginning. You create categories and then load them with content that is posted once or over and over. Now that I have all my recurring posts entered I just go in once or twice a week and add on-off posts. I am amazed how much time it is saving me. The best part it that all of this is only $19.99 a month!" Emma Bates, Kids, Cash and Chaos
---
"Zoom is the business tool I can't live without! I'm a business and marketing strategist so most of my client work is spent on calls. I've found Zoom to be more stable than other video calling platforms, it's free for 1:1 calls, and I can easily record my calls. The best part is the recordings are split into video and audio, and just audio files, so my clients can listen to our strategy sessions like a podcast!" Maggie Giele
---
"Adobe Photoshop Lightroom and Google Drive are tools our business can't do without. We work with more than 1,000 photos at a time, so Lightroom's ability to archive collects helps us stay organized and efficient. Google Drives allows multiple team members to review, make notes and edit content at the same time without creating duplicate documents. This reduces confusion and helps keep us organized." Vladimir Gendelman, Drinkware Company
---
"My iPhone. I literally can work from anywhere that I can get reception and that's a pretty big place. Everything is available on my phone, and I can create, write, answer, and listen with this small (relatively) device held right in my hand." Sasha Gray, Scattered Sasha
---
"I love Canva. I used to use Photoshop for my blog graphics and it works, but it's kind of like using a dump truck when you really only need a wheel barrow; it ends up being kind of clunky in the process. Canva is super user-friendly, fast learning curve, pre-determined sizes for blogs, Pinterest, etc., and best of all—it's free! There are some templates and elements that are an upgrade, but you can definitely make quality logos, templates, and graphics with the free options and with your own that get uploaded." Kimberli Lowe, Kimberli Lowe Photo
---
" My favorite tool is CinchShare. I use it to schedule social media posts to all the Facebook groups and pages I have. Plus, as a direct seller, I utilize CinchShare to run successful Facebook parties for my business." Kristy Empol, Forever Sparkly
---
" I can't live without Dubsado. For the uninitiated, Dubsado is a CRM, and an incredibly powerful one at that. I manage all my contracts, invoices, workflow, proposals, questionnaires, bookkeeping, and more with Dubsado now. Prior to that, I was wrangling paper contracts and invoices still, and though I could accept credit cards with Square, I didn't have a streamlined way for clients to pay online. The way I've been able to manage so many aspects of my business from one portal has completely changed the way I do business—for the better—and has become an indispensable tool in my business arsenal." Samantha Sherwood, Samantha Sherwood Photography
---
"I use a ton of tools, but far and away the biggest tool I use is Evernote. I store things, write things, etc. It's so flexible to design your own system, and multi-platform to allow for easy collaboration with others. I wrote about this at length here. " Emily Hoapili, Efficiency by Emily
---
"I totally can't live without Freshbooks. It's amazing. I can track all my expenses and categorize them on the go as well as track time and send invoices—all this makes tax season a breeze. Before using Freshbooks, I had to manually track when clients contracts were due or when I needed to invoice them—it was just one more thing for me to forget. Freshbooks automatically sends them the invoice and reminders if needed. Having the capability to take payments by card is so convenient for my clients and really cuts down how long it takes for me to get paid. Freshbooks is a must." Victoria Harris
---
"I can't live without a tool called PostBox for my email. It makes achieving Inbox Zero a breeze. How do I use it? As soon as something comes in, I do something with it. I respond, flag it (if I need to respond later), or I archive it. I have support tickets and newsletters flow into different rules so I never see them in my inbox (I know to check these a couple of times throughout the day). The UI is amazing and makes email (dare I say it..) more enjoyable."
Alyssa Smith, Simply Productive
---
"What I love about Plann is not only can I visually set up my Instagram layout and schedule reminders, it's a one time fee (it's changing for new members) & I can have multiple accounts! It makes Instagram so easy!"
Jenna Redfield, Jenna Redfield Designs
---
"The one business tool I can't not absolutely live without is my external drive. I back up everything especially after losing everything on my old computer. My boyfriend decided to sleep with my laptop one day, and he dropped it. I remember hearing a big loud sound in the middle of the night and I ignored it and went back to bed. I woke up to realize that my laptop had crashed and we could not recover anything. My entire life is now on this external driver and my backup of that backup is in the cloud. I literally move around with this external drive as though it were an extension of me." Divine Mwimba, Ladies Make Money
---
"Google Drive is a brilliant tool. And it's free. The sheer genius and generosity of Google to give career woman a tool to create, collaborate and make sure that nothing stands in the way of action. From the omnipresent Gmail, to GoogleDocs, Slides, Sheets, Forms and more, the list is pretty impressive and endless. At Maroon Oak, we use the Google Docs App on the go for creating, collaborating and brainstorming blog articles. The GoogleSheets App is awesome for maintaining and updating CRM and lists and tables of every kind, including simple but essential details like the hex# of important brand and font colors, text sizes etc. We also love the fact that it is simultaneously editable in real time with all the collaborators, so you and your partner can brainstorm and edit the same document while sitting miles apart." Aditi Tandon, Maroon Oak
---
"I couldn't be productive without my MacBook. In one place, I have access to everything I need. Honestly, most of the programs I use are available on a web-based platform. However, there are a few I use that are specifically for a Mac. The biggest benefit for me is to work on the go. It allows me to stay home full-time with my kids plus run my business." Kristy Marshall, Money Bliss
---
"Part of delivering exceptional service for your clients is having streamlined processes in place right from onboarding. The one business tool I absolutely could not live without is Dubsado. This business management tool combines lead generation, quotes, agreements, questionnaires, invoices, time tracking and your to-do list into straightforward workflows which can be automated. It also integrates with popular payment gateways, bookkeeping tools and your calendar, as well as keeping everything secure in password-protected client portals. The great thing about Dubsado is that it has been made especially with creatives in mind and the team are always working on bringing out new features like call scheduling. Before discovering this, I was using 7 or 8 tools and quite often missed a step. Not only does this save me time and money, but it gives me more confidence, delights my clients and manage my own team right from within it." Rebecca Viner, Sparked Passion
---
"Freeagent allows me to create invoices, track projects, run my payroll, log and pay back expenses, send payment reminders for overdue invoices, view my taxes, see my bank balance, see my profit for the year, see at a glance how much money I am due from invoices that have been sent, take credit card invoice payments online and so much more! I can completely manage the financial aspects of my business so that come tax return time, all my accountants have to do is log in to access all the information. It's a real timesaver and SO helpful for tracking projects – from getting the initial contract signed right through until project completion." Sarah Watts, Design Sheep
---
"Google Sheets, hands down! I use Google Sheets for about everything in my business. From tracking details of a client project, project timesheets, to writing out a list of my blog post ideas and my annual biz goals. I love that I can leave the hard drive on computer free for other processing work. Plus, everything in Google Sheets in particular and Google Drive as a whole is saved in the cloud – making it accessible from anywhere. Perfect for digital nomads as well as every online entrepreneur. It's surprising that I am such a big fan since I used to be a hard-core "all-folders-on-desktop" type of gal! But once I began collaborating with other people, both Google Drive and google sheets became indispensable. I can upload files to share with my clients that I otherwise couldn't via email. That really was a game changer!" Sophia Ojha, Creator of Happiness Gameplan
---
"Buffer is my go-to social media app. I have all my favorite feeds in the app. Then it picks the best times for me to post to each network, then I just add posts from the feeds to the time slots for 4 weeks. I can do Twitter, Gplus, FB groups and FB pages. Saves me a bundle of time!" Cathy Tibbles, WordPress Barista
---
"I can't live without Ahrefs. I use it everyday, and seriously can't imagine working without it. Ahrefs is my go-to tool for keyword research, monitoring my backlink and domain health, understanding my search engine rankings, and reviewing how my site stacks up compared to other comparable sites. I honestly don't think I'd be where I am today if I didn't have Ahrefs in my "tool-kit". Eden Fried
---
"This past year I invested in Co-Schedule and it changed my business. I've been blogging for a while now. The one part of blogging that I've never liked is just how much effort it takes to schedule social media posts about my current offers, and latest blog content. Before I got Co-Schedule I only used Buffer, which has been awesome over the long-term. However, Co-Schedule brought my marketing strategy to a whole new level. I love that it does a majority of the promotion work for me. That's exactly why Co-Schedule is one of the most important parts of my business. I love Co-Schedule because I now have a lot more time for not only client work and writing further blog posts, but things that really matter to me in my personal life, such as spending quality time with the people I care about." Rosemary Richings
---
"The business tool I cannot live without is Trello. Put simply, it's a to-do list app on steroids. Trello itself is a blank slate when you first sign up (and it's free!), which can be a bit intimidating. I recommend either finding a friend who uses it successfully for business, or take a look at the Trello for Business Course by Think Creative Collective. I use it to input my quarterly goals and subsequent tasks, giving each a due date to keep myself accountable to my business plan. It can even be used to meal plan and organise your home… it's the most versatile organization I have ever come across and makes my life 112% easier to keep track of." Kit Cronk, Ruby and Pearl Press
Fuel Your Personal Growth
Grab this free workbook filled with daily prompts to guide your journaling for self-discovery and business growth.