This is third year in a row that I've run this list of the best planners made for creative women business owners by creative women business owners. These lists are—far and away—the most popular posts on my blog. If you're finding me because of this post, I'm so happy you're here!
I'm a coach for women business owners. When I start working with my clients, almost all of them feel overwhelmed and scattered. They have so many ideas, but lack a clear plan of attack. Sound familiar?
I hope you have as much fun reading about these 2019 planners as I had pulling this list together. Among these 12 planners, I'm hopeful you'll find just the right one for your organizational and inspirational needs!
(This post contains affiliate links. If you purchase via a link here, I may receive a commission. The price is the same for you whether you use my link or buy directly from the vendor.)
Whitney English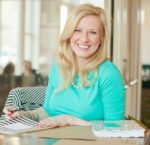 faced an overflowing email inbox, a hand-scribbled to-do list, a pile of meeting notes, and felt overwhelmed and disorganized back in November 2011. She needed a solution—quickly. That's when she came up with the Day Designer™. It was my first "real" (non-drugstore) planner, and I remain totally smitten with it.
The Day Designer ($59) is the original daily planner. It's a simple and easy system created to help women find balance and productivity. There are yearly and monthly glances, but this one is all about the daily pages. There is a focus on the top three things you need to do each day (my favorite part!). There's also a ton of space for events, to-dos, notes, meal planning, gratitude, and more. I really love the inspirational quotes. If you're a daily planner user, I doesn't get better than this!
Learn more/order: DayDesigner.com
---
Jenna Murillo has felt a sense of magic with paper since childhood. She's energized by turning a blank canvas into something beautiful. That's what led her to planner design. "Designing a product that's a stunning and functional tool for others was always a dream," she says. "In 2015, fueled by the encouragement of friends and family and a fire inside of me to create, I fulfilled that dream."
The Refresh Weekly Planner ($39.95) is back for 2019 slimmer than ever before, and featuring three cover design options (I don't know how to choose among them!). The Refresh Planner includes an updated pocket design, goal-planning pages, monthly and weekly spreads, and a notes section. It's all beautifully bound with hard covers in a new, lightweight design. Plan for progress and take some serious action on your goals with the 2019 Refresh Weekly Planner. This one always makes my list because it's so pretty and practical!
Learn more/order: WorkSpacery.com — Get free shipping when you use my link!
---
Kathy Pine started her first company at age 25. After navigating the challenges of balancing entrepreneurship and early motherhood, Kathy realized she had a passion for helping women pursue their dreams and she began making inspirational and practical paper products. She created her first planner with a successful Kickstarter campaign in 2017. Now the Inspired Year planner is the flagship product of her One Love Paper Co.
The 2019 Inspired Year Planner ($49) is the ultimate goal-setting calendar for busy creatives who are juggling it all. Its no-nonsense approach, functional design, and roomy pages provide everything you need to stay organized and inspired. It's designed with goal-setting and work-life balance in mind. It's uniquely suited to manage your busy days while making space for your dreams. My favorite part of this planner is all the incredibly helpful and inspiring annual, quarterly, and monthly goal-setting exercises. The "wheel" activity really opened my eyes!
Learn more/order: 1LovePaper.com
---
Erin Condren left 12-hour days in the apparel industry to become a stay-at-home mom of two. She developed a case of cabin fever, and searched online for career opportunities she could do from home. She began making cards for friends, as birthday gifts, new baby announcements and hostess gifts. Her friend encouraged her to sell her designs at a "shopping party" at her home in June 2004. The rest is history.
The LifePlanner™ ($50+) is the ultimate planning system to get organized, achieve your goals, and preserve memories in one stylish space. This feature-packed planner boasts two-page spreads per month, three layouts (vertical, horizontal, or hourly), stylish design elements and inspirational quotes, coiled-in stickers, and a two-page goal setting spread. It's ideal for anyone who loves scrapbooking or is otherwise artistic. There are so many accessories you can use to personalize your planner and make it a true reflection of you!
Learn more/order: ErinCondren.com
---
Eve Tokens
says she created a planner to keep her life on track. "I was using a bullet journal for managing my personal life, Trello for my online business, and my phone calendar to keep track of both and random other appointments," she says. "It was too much, and I found I was getting less done than ever before."
The Perfect Project Planner (£27 or $34.91) is designed for bloggers, small business owners, and entrepreneurs who need a planner that does all the things. Download and bind this planner and use it to track everything you need for your blog/business. Key features include a 2018 review, goal planning for 2019, important dates, book list, 2018 and 2018 Google Analytics overview, weekly stats tracking, quarterly financial goals, project idea areas, 90-day sprint planning, and more. I love this one for bloggers (or any business with a blog) and for anyone who hates lugging around a heavy planner.
Learn more/order: Gumroad download
---
Yvonne "Yvi" Heimann
set out on a mission to integrate her work and life passions fully, simply, and in a way that would do what "planners" are actually meant to do—magnify our greatness! After years of trying to find the perfect planner, app, or productivity tool, Yvi decided to revolutionize the planner industry. The Bulletproof Business Planner (formerly known as ProtoPreneur Planner) empowers us to cultivate our life's
passions and bring our deepest desires to life.
The Bulletproof Business Planner ($59) empowers you to design (not just dream about) your destiny. It helps you become the most clear-minded, productive, motivated, inspired, and kick a$$ version of yourself. It's like a best friend who remembers and reminds you of your most important projects and dreams, encourages you to track and be proud of your personal accomplishments, workouts, and everything in between. I love this one because it's undated so you customize it to fit your schedule. Plus, the leather-look cover is GORGEOUS and durable. This is a beast of a planner!
Learn more/order: AskYvi.com
---
Mo Seetubtim always dreamed of having an inspirational brand that people love. Her dream finally came true in March of 2015 with the launch of The Happiness Planner. It's a beautiful journal designed to help people become happier and more fulfilled by embracing positive thinking, mindfulness, gratitude, and self-development.
The Happiness Planner® ($46-$59) will help you not only manage your to-do list, but also live a truly happy and fulfilled life in alignment with your core values, personality traits, and strengths. There are four main elements: the Happiness Roadmap (become more self-aware and set fulfilling goals), the Planning Pages (stay focused and motivated on monthly goals), the Daily Pages (fill your days with inspiration), and the Reflection Pages (learn from the highs and lows of each week/month). As a mindset coach, I absolutely adore this comprehensive approach to a planner!
Learn more/order: TheHappinessPlanner.com
Ashley Staum
's dream started late one evening while in grad school. In order to avoid studying for a few hours, she decided to design her own planner to stay on top of everything on her plate. She fell in love with the process of designing that first planner, and continued to make her own planners each semester and later for co-workers. In early 2013, she began selling digital versions and now physical planners.
The She Plans Planner ($20-$46) had some big changes for 2019. There are now daily, weekly, and monthly versions so you can choose the one that fits the way you plan. There are full 7x9-inch sewn notebooks in monthly ($20), weekly/quarterly ($38), and daily/quarterly ($46) offering the size of a traditionally bound planner with the ease and simplicity of a sewn notebook. This year's layouts include extras like a unique 4-page weekly spread in the weekly planner, and both week-at-a-glance and full Sat/Sun pages in the daily planner. New this year is a loose daily planner with tabs for those who love a binder system.
Learn more/order: ShePlans.com
---
Ilana Griffo decided to make a planner when she couldn't find one that fit her needs. "As a design student, I wanted a place I could doodle, take notes, and stay on track of my classwork," she says. In the last five years, Griffo's planner has evolved to reflect her creative journey and her customers' needs.
The Rule The World Planner ($36) is full of goal-setting tools bound to help you crush your goals. From budget-planning worksheets to inspirational quotes, this planner is bound to make this year your best yet.
Learn more/order: IlanaGriffo.com
---
Ashley Shelly
started designing planners soon after creating The Budget Notebook, her first official product, because customers asked for it and she felt the time was right. "I've been a planner user for years, but I always wanted to improve on the designs I saw," she says.
The Ashley Shelly Planner ($44.95) helps women create their best days by planning on paper. It features the perfect combination of organization and inspiration. This functional planner includes special features that guide you through organizing and staying inspired throughout the year. It includes a weekly layout with schedule and to-do list sections, and a spot for due today and dinner, equal space for all days of the week, and a hard, glossy cover (7.25x9.25 inches including binding).
Learn more/order: AshleyShelly.com
---
Deana Uhrig created a planner to help women keep organized and help them find daily time with God. Her biggest prayer is that her planner keeps people focused on God as they plan their days.
The Anchored Press Devotional Planner ($49) is a Christian planner full of Bible verses and devotional content. Each weekday includes a devotion written by a different (godly, gifted, and inspiring) contributor that focuses on a specific theme. Following each, you'll be guided through a full week of reflecting and growing in that area of your life. Also included are meal planning, goal setting, notes pages, prayer request pages, pockets, and other organizational tools.
Learn more/order: AnchoredPress.com
---
Anung Villay
is the mastermind behind Courageous Creativity, a place for introverts and homebodies to go on with their life and live with some adventure.
The Fulfill Your Dreams Planner ($9.99 – $14.99) will help you plan and prioritize your dreams. You get pages to mind map life goals. Each step is spelled out for you so you can take your time. There's plenty of space to add new ideas (and even add you own little designs). Everything gets broken down from your big ideas, all the way down to what you need to do this week to get there.
Learn more/order: CourageousCreativity.co
There you have it! My list of the best planners for creatives and entrepreneurs. I hope you loved this list for 2019, but if you know of one that you think should be included, just let me know in the comments below. I love finding new products to include in the future. Also, if you found this post useful, please share it with your friends and on social media. Help me spread the love for these amazing women creatives who are making beautiful tools for us all!
Journaling for Success
Grab this free workbook filled with daily questions to fuel your journaling for self-discovery and business growth.