Journaling Prompts for Self Discovery as a Small Business Owner


By Becky Mollenkamp, PCC

It's easy to get stuck in your own head, with dozens of ideas flitting by every second. When we allow our thoughts to run amok, they can easily spin out of control and cause us anxiety and overwhelm.
Journaling is perhaps the best way to take back control of your thoughts. It provides you a safe space to get everything out of your head, and onto paper where you can actually organize it and turn it into something actionable.
That same practice can also help you better understand yourself—who you are, what you truly want, what's holding you back from your goals, and so much more. Here are 30 journaling prompts for self-discovery. They will help you grow as a business owner—and as a person.
 My favorite way to spend the day is…
 If I could give my younger self advice, I would say…
 Words I'd like to live by…
 The people who genuinely support me are…
 What I've learned from my biggest mistakes…
 I feel most energized when…
 Things that inspire me
 How would … act in this situation?
 How would I most like to be remembered professionally?  
 How can my struggles help my customers/audience?
 Who is my biggest fan and why?
 Who are the 5 business owners I most admire and what do I respect about each?
 What did I love doing as a child?
 The beliefs/assumptions that are holding me back…
 My inner voice is trying to tell me…
 Nobody knows that I…
 The most important choices that made me who I am today are…
 A time I was brave…
 I'm most proud of myself for…
 To me, feeling safe means…
 The characteristics I judge most harshly in others…
 The characteristics I judge most harshly in myself…
 How would my life be different if I felt comfortable being myself at all times?
 What am I doing that I think I should?
 My greatest strengths…
 My greatest weaknesses…
 A time I felt especially valued and loved…
 How I define success
 The ways I've grown in the last 5 years…
 The nicest compliment I ever received was…
 Living an authentic life means…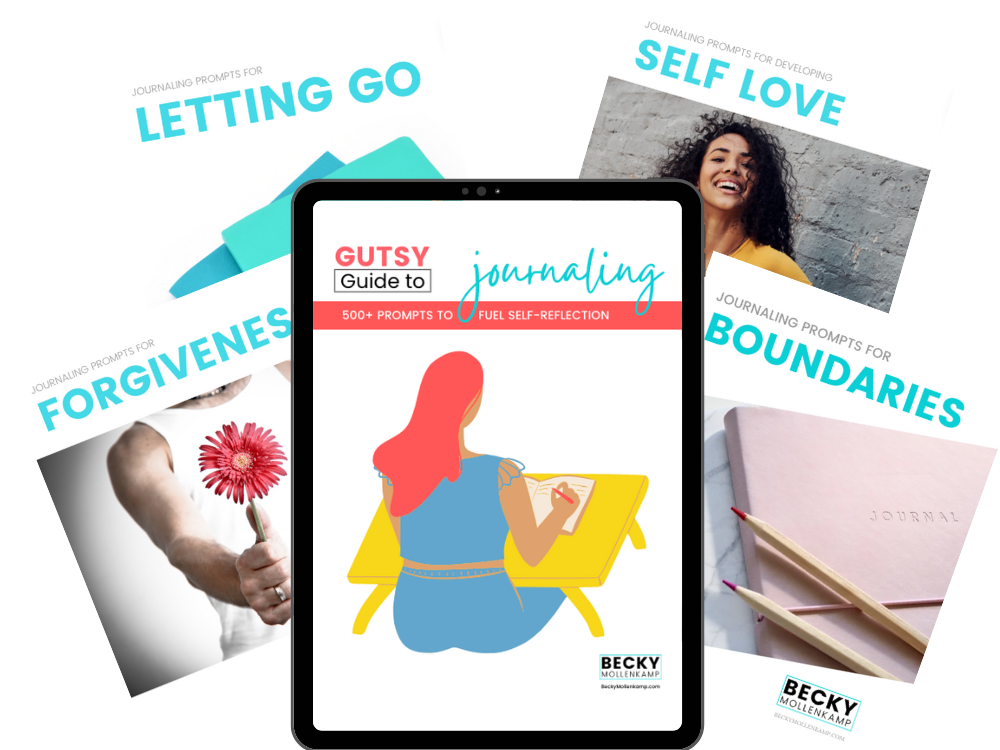 Get started with journaling!
Get the Gutsy Guide to Journaling with nearly 500 thought-provoking journal prompts for only $7!