It's my favorite time of year—time to order fresh new planners for the new year! This popular post highlights more than a dozen of the best planners made for creative women business owners by creative women business owners.
I'm an old pro at this by now. I've been using paper organizers forever (seriously, I've tried and failed digital options many times), and this is the fourth year that I've put together this roundup.
What I've learned is this: There isn't one option that suits everyone. That said, I'm hopeful that among this great collection of planners you can find the right one for your organizational and inspirational needs.
(This post contains affiliate links. If you purchase via a link here, I may receive a commission. The price is the same for you whether you use my link or buy directly from the vendor.)
Ashley Shelly
has a passion for planning and organization—on paper and in her environment. Her brand's tagline is "Create Your Best Days" because she knows planning is such a huge part of a woman's day (and life!). She created a planner that combines scheduling, to-do lists, and inspirational planning. "I believe function and inspiration are the key ingredients in a perfect planner," she says
The Ashley Shelly Planner ($44.95) features a combination of organization and inspiration. It includes a weekly layout on two pages with equal space for all days of the week. Each day has a section for your schedule, to-do list, and notes or meal planning. I love the Creative Spreads, which are positioned at the start of each month, to help you get inspired and set goals. It has a hard, semi-gloss cover, and measures 7.25 x 9.25 inches including binding.
*Note: The 2020 planner launches on Oct. 4th at 10 am ET
Learn more/order: AshleyShelly.com
Whitney English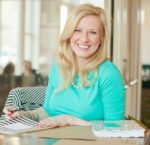 faced an overflowing email inbox, a hand-scribbled to-do list, a pile of meeting notes, and felt overwhelmed and disorganized back in November 2011. She needed a solution—quickly. That's when she came up with the Day Designer™. It was my first "real" (non-drugstore) planner, and I remain totally smitten with it.
The Day Designer ($59) is the original daily planner. It's a simple and easy system created to help women find balance and productivity. There are yearly and monthly glances, but this one is all about the daily pages. There is a focus on the top three things you need to do each day (my favorite part!). There's also a ton of space for events, to-dos, notes, meal planning, gratitude, and more. If you prefer a daily planner, I doesn't get more elegant and practical than this.
Learn more/order: DayDesigner.com
Carina Lawson is a Brazilian-born, Arabian Gulf-raised, Brit-wed, higher-ed executive, and twin mum. Like most of the creators on this list, Lawson created her planner for herself to solve her problem of overwhelm. "I'd internalized the message that making time for myself was less important than my to-do list," she says. "But I wanted space to grow, learn, laugh, and to be honest, sleep, too!"
The Ponderlily Planner (£35 GBP) is made with eco-conscious materials and plastic-free packaging, and is designed to prompt you to dream fearlessly, set meaningful intentions, and take bold actions. It available in either dated or undated weekly layouts, and comes in several beautiful colors. There are gentle prompts, lists, gratitude reflections, habit trackers, and more to hold you accountable and help you celebrate triumphs. This is perfect for my European readers: It won't fly across the world to get to you, meaning a smaller carbon footprint and a cleaner conscience!
Learn more/order: Ponderlily.com
Erin Condren left 12-hour days in the apparel industry to become a stay-at-home mom of two. She developed a case of cabin fever, and searched online for career opportunities she could do from home. She began making cards for friends, and a friend encouraged her to sell her designs in June 2004. The rest is history.
The LifePlanner™ ($50+) is the ultimate planning system to get organized, achieve your goals, and preserve memories in one stylish space. This feature-packed design boasts two-page spreads per month, three layouts (vertical, horizontal, or hourly), stylish elements and inspirational quotes, coiled-in stickers, and a two-page goal setting spread. It's ideal for anyone who loves scrapbooking or is otherwise artistic (and I know teachers love this one!). There are so many accessories you can use to personalize and make yours a true reflection of you!
Learn more/order: ErinCondren.com
Jenna Murillo has felt a sense of magic with paper since childhood. She's energized by turning a blank canvas into something beautiful. That's what led her to planner design. "Designing a product that's a stunning and functional tool for others was always a dream," she says. "In 2015, fueled by the encouragement of friends and family and a fire inside of me to create, I fulfilled that dream."
The Refresh Weekly Planner ($39.95) is back for 2020 with three fun new cover design options (they are all great, but the Kennedy, below, is my fave). The Refresh Planner includes a pocket design, goal-planning pages, monthly and weekly spreads, intentional space for weekly action steps and gratitude notes, and a notes section. It's all beautifully bound with hard covers, so it won't fall apart by April. This one always makes my list because it's so pretty and practical.
Learn more/order: WorkSpacery.com
Jenny Newcomer searched for years for the perfect planner that would help keep her busy work and home life in order. Eventually, she decided to create our own and manufacture it in the USA. A successful Kickstarter campaign funded the initial 2016 production run, and now this planner is a popular choice among entrepreneurs, moms, and busy people of all types.
The Commit 30 Planner ($29-36) is designed to help you crush your goals and dreams by focusing on 30 Day Challenges every month. I freaking love this sleek little planner, which comes in weekly (Sunday or Monday start) or monthly formats. It includes vision mapping, planning and goal setting pages, life and work to-do lists, note pages, a back pocket, and motivational quotes. Best of all, part of the sales of certain planners go to Ovarian Cancer Research Alliance (Jenny, the creator, is thriving after ovarian cancer in her early 20s).
Learn more/order: Commit30.com
Lyndelle Palmer-Clarke os a recovering self-help junkie who's read all the books, been to all the seminars, listened to all the DVD's and followed all the gurus only to realize that something was seriously missing from the picture—applied knowledge. She made it her life mission to empower others to apply self-help ideas into their lives so they can start seeing results, and created the Dailygreatness planner to help.
The Dailygreatness Original Yearly Planner ($49.95) combines a yearly diary, goal and appointment planner, and daily tools for self-mastery. It includes space for appointments, reminders, gratitude, intentions, and evening reflections. This beautifully designed undated journal, with 488 full-color pages, will inspire you to upgrade your life and achieve your goals. Why wait for January 1st to start achieving your goals, when you can start today.
Learn more/order: Dailygreatness.com
Lara Casey
is passionate about helping women get unstuck, unrushed, and living on purpose instead of by accident. Because that was her story, too. She created PowerSheets to help women make what matters happen, right where they are. She wants to get women asking themselves what makes them tick, what do they most want to cultivate in their lives, and what are the things they've always wanted to do. I love that!
The PowerSheets® Intentional Goal Planner ($58) is a best-selling goal planning tool for a reason. They help you uncover the right goals for your season of life, have goal coaching on every page to keep you motivated, and include seasonal worksheets to refresh and refocus your goals. Plus, you get access to a free library of downloadable pages (including things like a meal planner, finance tracker, reading list, and budget). I highly recommend this system for anyone looking for a very in-depth, comprehensive approach to setting big goals.
*Note: The 2020 PowerSheets launch on Oct. 16th at 10 am ET
Learn more/order: CultivateWhatMatters.com
Eve Tokens created a planner to help her manage multiple small businesses. "I was using a bullet journal, Trello, and my phone calendar. It was too much, and I found I was getting less done than ever before," she says. The planner has evolved over three years into a strategic tool used to help her stay on track with both business and personal goals.
The Perfect Project Planner ($30) is designed to help bloggers, small business owners, and entrepreneurs take control of their lives and business plans. With dedicated space for planning out and prioritizing goals, the planner helps you schedule your business tasks and your personal life in a way that doesn't make you feel like a planning failure. With a year-end review, weekly income tracking, monthly Google Analytics tracking, 90-day sprint pages, and monthly + weekly planner pages, this printable planner is perfect for any small business owner or blogger who has struggled to stay on top of things.
Learn more/order: PerfectProjectPlanner.com
Kathy Pine started her first company at age 25. After navigating the challenges of balancing entrepreneurship and early motherhood, Kathy realized she had a passion for helping women pursue their dreams and she began making inspirational and practical paper products. She created her first planner with a successful Kickstarter campaign in 2017. Now the Inspired Year is the flagship product of her One Love Paper Co.
The 2020 Inspired Year Planner ($49) is the ultimate goal-setting calendar for busy creatives who are juggling it all. Its no-nonsense approach, functional design, and roomy pages provide everything you need to stay organized and inspired. It's designed with goal-setting and work-life balance in mind. My favorite part is all the incredibly helpful and inspiring annual, quarterly, and monthly goal-setting exercises. The "wheel" activity really opened my eyes!
Learn more/order: 1LovePaper.com
Angelia Trinidad wanted to create a planner that helped people break down their short- and long-term goals into actionable steps that they could complete over time. From her parents' garage, she launched Passion on Kickstarter, and to her surprise raised, $48,000 in 30 days with the help of 2,000 strangers and friends.
The Passion Planner ($30-35) is designed to encourage you to plan for the future, reflect on the past, but most importantly, act on the present. It includes a step-by-step guide for mapping out goals, mind mapping for achieving them, monthly and weekly calendars, and space for monthly reflections. It's available dated and undated and comes in three sizes. Best of all: $1 from each one sold benefits Malala Fund, a non-profit working for a world where all girls can learn and lead.
Learn more/order: PassionPlanner.com
Yvonne Heimann
thought about all the things going on in an entrepreneur's life when she created the Bulletproof Planner. "It helps you to map out the incredible dreams you have for your life, and break them down into checkpoints along a logical roadmap," she says.
The Bulletproof Planner ($59) is a roadmap for entrepreneurs. It puts everything you need in one place, so you can stay on top of looming deadlines and major goals. This undated planner includes monthly/weekly/daily layouts, yearly/quarterly goal tracking, financial planning and tracking formats, a workout tracker and gratitude journal, affirmations, and more. With a durable and beautiful leather-look cover (and pen and business card holders), it's perfect for people who want to look professional at networking events or meetings.
Learn more/order: Shop.AskYvi.com
Mo Seetubtim always dreamed of having an inspirational brand that people love. Her dream finally came true in March of 2015 with the launch of The Happiness Planner. It's a beautiful journal designed to help people become happier and more fulfilled by embracing positive thinking, mindfulness, gratitude, and self-development.
The Happiness Planner® ($59) is one of my favorites as a mindset coach because it puts a strong emphasis on being in alignment with your core values. The Happiness Roadmap takes you through exercises to help you better understand your needs. And the planning pages help you take a more holistic look at your life than simply providing space for a to-do list. This is one of the best for people who want a planner that allows for deeper introspection.
Learn more/order: TheHappinessPlanner.com
Ilana Griffo decided to make a planner when she couldn't find one that fit her needs. "As a design student, I wanted a place I could doodle, take notes, and stay on track of my classwork," she says. In the last five years, Griffo's planner has evolved to reflect her creative journey and her customers' needs.
The Rule The World Planner ($35) is full of goal-setting tools bound to help you crush your goals. From budget-planning worksheets to inspirational quotes, it's bound to make this year your best yet.
Learn more/order: Amazon.com
There you have it! My roundup of the best planners for 2020. I hope you find one you love! If you found this post useful, please share it with your friends and on social media. Help me spread the love for these amazing women who are making beautiful products to help all of us get more organized. Thanks!
Journaling for Success
Grab this free workbook filled with daily questions to fuel your journaling for self-discovery and business growth.