Don't miss the 2023 planning session on Dec. 5th!
MAKE 2023 YOUR BEST YEAR YET.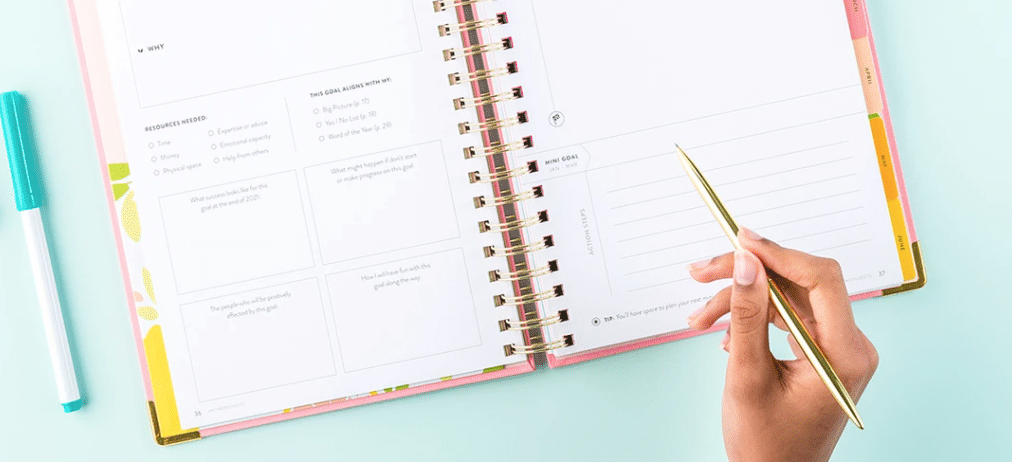 YOU'RE A SMART HIGH-ACHIEVER.
You have a lot of big goals, and the drive to reach them. And still…
You struggle to see your goals through (or to make them happen as quickly as you know is possible).
👉 You're an idea machine—so much so that all those ideas can distract you from the goals that matter most.
👉 Deep into a big goal it can be hard to see the forest for the trees, and you hate feeling lost and alone in the woods.
👉 It's tough to get back on track when life (kids, emails, client work, etc.) derails your best-laid plans.
👉 Perfectionism and procrastination are frequent foes that slow you to a standstill at the worst possible times.
👉 You can only push yourself for so long before you feel like breaking down and giving up. It's exhausting.
THIS IS THE SUPPORT YOU NEED TO REACH YOUR GOALS!
Need focused time and a little guidance for mapping out your 2023 goals? Would ongoing check-ins help ensure you stick with your goals all year?
I'm here for you, friend, with accountability programs for high achievers like you.
A NOTE ABOUT PRICING:
In hopes of creating greater equity, group programs are offered on a sliding scale.
If most of these attributes apply to you, consider the lowest price point:
• No advanced education
• Receive public assistance
• Have significant debt
• Have no savings/retirement
• Unable or difficult to work due to illness, neurodiversity, other issue
If most of these attributes apply to you, consider the middle price point:
• Completed some college
• Rent a home
• Have moderate debt
• Have some savings/retirement
• Family or friends could help financially in a time of need
If most of these attributes apply to you, consider the highest price point:
• Have a college degree
• Own a home
• Have little to no debt
• Have savings/retirement + inheritance or family paid for your education or other experiences
OPTION 4:
1:1 Accountability Calls*
30-min call per month; you choose the day/time
Meet one-on-one with Becky for more personalized support on your goals. We'll check your progress, work through any blocks, and renew your focus for the next month. Plus, get weekly check-ins to help you remain focused on what matters most to you (even when things get hectic, and they will).
*Due to time constraints, 1:1 accountability coaching is not available on a sliding scale.
Monthly payments are available, but accountability programs are a 1-year commitment (by signing up, you commit to paying in full even if you stop participating).
"As a solopreneur, planning is essential and so when Becky offered the monthly planning calls, I was all in.  I love how there is a workbook for each month, and we use it to list our plan and to track our progress over the entire year. It's nourishing and a pleasure to be in a group of lovely people to write out my plans. I know that I wouldn't get the plans done consistently if it wasn't for the group accountability planning calls. They've been a life saver for me."
Tirra Hargrow, spiritual guide and life coach
Why do I need accountability? Can't I do it on my own?
Is going it alone working for you?
Are you consistently setting aside time to get detailed about your big-picture goals, and to map out exactly what you need to do to reach them? Are you hitting important milestones on time without getting distracted or discouraged? Are you maintaining focus month after month and feeling excited about your progress?
If you're already doing those things, then you may not benefit from an accountability program.
If your goal setting and/or execution process could improve, then these programs can help.
By signing up, you're putting money behind your goals. For many people, that's enough to ensure they'll put time in their calendars for the macro and micro planning needed to reach big goals. Plus, if you're externally motivated, consistent support from a group or a coach (or both) will dramatically increase your chance of success over the long-term.
Don't let another year fly by, and end with you feeling like you could have done more to reach your goals.
What is the difference in each program? What do I get?
Option 1: Annual Planning Session
During this 3-hour group workshop hold on Zoom (Mon., Dec. 5th, 9:30 am-12:30 pm Central), accountability coach Becky Mollenkamp will guide you through a series of exercises that will help you:
• Consider what has and hasn't been working for you when it comes to reaching your goals.
• Determine what adjustments (to mindset, actions, or both) will better serve you next year.
• Set and prioritize values-aligned goals for 2023, including metrics for measuring success.
• Break your big goals into quarterly sprints, and map out your Q1 tasks. 

You'll leave with clarity about what you're working toward in 2023, a road map for how you'll reach your goals, and inspiration and motivation to kick the year off on the right foot. 
[You'll receive a workbook (PDF and Google Doc versions) to use during the session, and you'll get access to a recording of the session within 24 hours.]
Option 2: Monthly Planning Sessions
At 9:30 am Central on the 1st Tuesday of each month in 2023 (exception: July will be the 1st Wednesday due to a US holiday), Becky will host on Zoom a 1-hour version of the planning workshop above.
Rather than looking at the entire year, we'll focus on the month ahead. Once again, we'll take time to thoughtfully consider what worked (and what didn't) in the last 30 days, what changes you want to make, and map out your to-do list for the month ahead so you know exactly what steps you need to take to keep progressing toward your big goals. 
These monthly planning sessions are the perfect time to make adjustments to your goals or plan, refocus on what matters most to you, and maintain your commitment toward the big-picture for your professional and personal lives.
[You'll receive a standard workbook (PDF and Google Doc versions) to use during the sessions, a bonus mindset worksheet each month, and access to a recording of each month's session within 24 hours.]
Option 3: Group Accountability Calls
At 9:30 am Central on the 3rd Tuesday of each month in 2023, you'll meet on Zoom with a small group of peers to support each other (with Becky's guidance) as you strive to reach your big-picture goals.
The calls will start with a quick round-robin reporting of each member's progress in the last 30 days, and end with each member choosing one task they want to be accountable for in the next 30 days.
The meat of each call is dedicated to discussing common practical and mindset challenges. Members will share what roadblocks are getting in the way of advancing toward their goals. In this safe space, Becky will encourage members to offer compassionate support (advice when sought, validation always) to each other, plus share mindset tips and do spot coaching on shared concerns.

These calls are part mastermind, part support group, part group coaching, and entirely loving and motivating. Your fellow members will become your biggest cheerleaders and (hopefully) some of your closest friends.
Option 4: 1:1 Accountability Calls
For many people, there is nothing more powerful than one-on-one time with an accountability coach (that's me!). In our initial call, we'll get clear about what matters most to you in your personal and professional lives, and make sure your goals are aligned with those values. Then, during a 30-minute call each month, you'll get hyper-focused and individualized support specific to your unique goals and challenges as you execute on those goals.
We'll start each call by checking on the progress you've made toward your goals over the last 30 days, then discuss any practical or mindset issues that are popping up. I'll guide you as you commit to making positive changes, based on your own wisdom (and if you don't yet hear or trust your intuition, don't worry—we will find it!). Each call ends with you making commitments to yourself for what you want to do over the next 30 days.
Also, I'll check in with you once a week (via Slack or Voxer) to help you keep those commitments top of mind.
This is next-level support for people who are ready (and can financially afford) to take big action in 2023.
Who are these programs for?
Accountability programs like this are for anyone who knows they do best with a little guided support and community. If you're the type of person who is most likely to take action when you have regular reminders and encouragement, then committing to these sessions on your calendar will be a big boost.
These calls are also great for people who tend to promise themselves they'll make time for planning each month, but never make it happen on their own (and instead tend to "fly by the seat of their pants" and end up frustrated by their haphazard actions). When you sign up, you'll get quick links to add the sessions to your calendar so you can commit to taking time and showing up.
✔️ The annual planning session will help you go into 2023 more clear and focused.
✔️ The monthly planning sessions will keep you focused on and committed to your goals all year.
✔️ The monthly group accountability calls will increase your motivation by getting encouragement from people who "get it."
✔️ The monthly 1:1 accountability calls will provide highly custom solutions to your unique practical and mindset blocks.
🚨 Signing for several or all programs will give increase the likelihood of reaching your 2023 goals! 🚨 
What if I can't be there live?
With each of group program (annual planning, monthly planning, group accountability), you'll receive a video recording within 24 hours so you can watch any call you miss. While being there live is ideal, these recordings can be useful if there's one or a couple of calls you can't attend live. Please review the dates and times of the sessions before you sign up to make sure you'll be able to attend all or most calls.
The 1:1 coaching program requires your attendance, obviously. When you sign up, you'll choose the day and time that works with your schedule. If something comes up and you can't make your scheduled call, I'll do my best to help you find a make-good call time that works. If we cannot find a time, however, you'll not be issued a refund for unused calls.
What if I choose a lower price point?
If your life circumstances necessitate paying the middle or lower price point, do so without guilt or hesitation. I hope we share common values re: equity, so I trust you (we use the honor system; I'll never ask for "proof"). I'll never mention the price you paid to you or anyone else. Rest assured that the price you pay is not up for public or private discussion.
"I value my monthly accountability time with Becky. With her help, I have committed to a number of personal and business goals that just weren't getting enough attention between the day-to-day of running a business, parenting, and doing something for my local community. For example, I never really thought I could take time for a yoga practice that supports my mind and body to be a better CEO, or align our company's philanthropic efforts with what is really important to our values. It can be done!"
Rachel Formaro, CEO of Blu Pagoda
Don't miss the 2023 planning session on Dec. 5th!