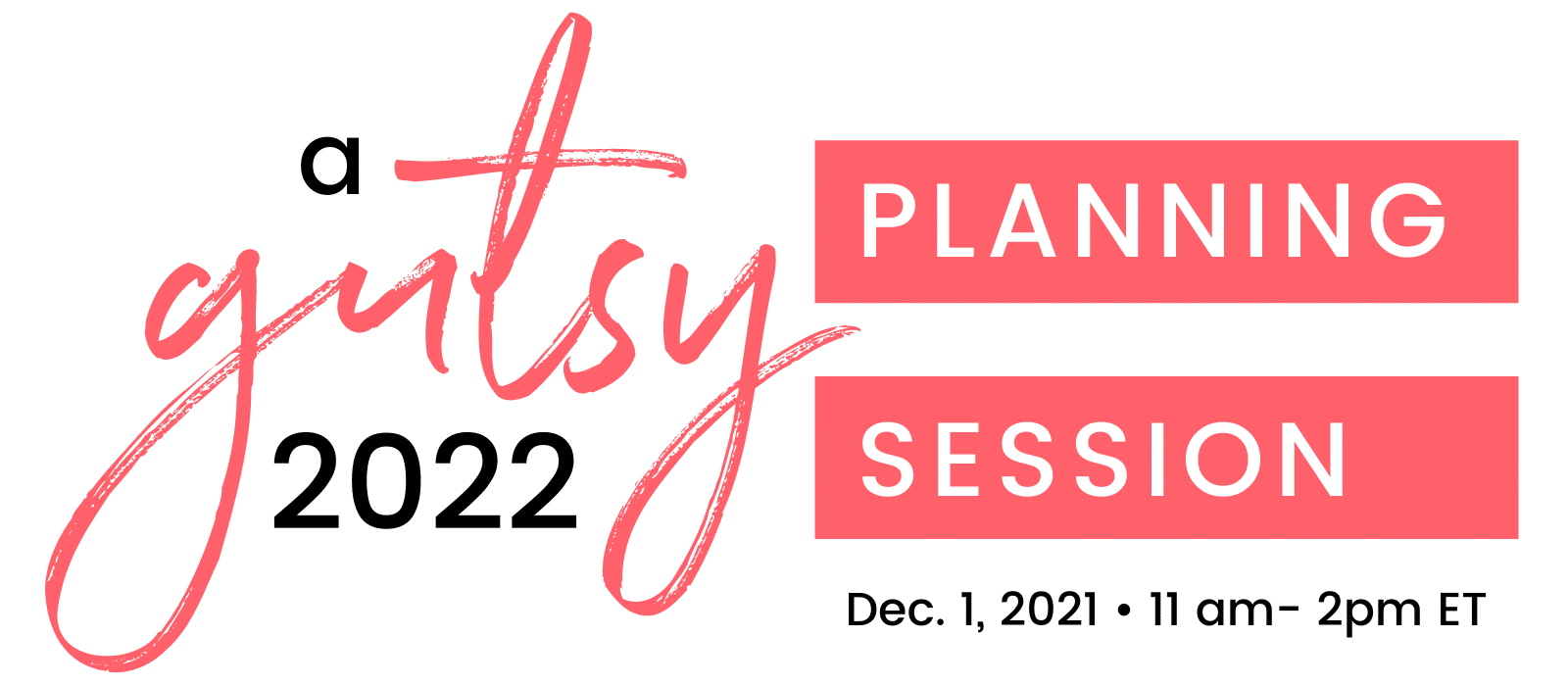 Make next year your best yet.
It's time for a fresh start.
The last 2 years have been R-O-U-G-H, to say the least. Like most of the world, you're breathing a sigh of relief that 2022 is nearly here.
Celebrate the promise of a better year by carving out time in your calendar to consider how you'll make 2022 your best year yet.
During this 3-hour session with feminist life coach Becky Mollenkamp, you will:
• Reflect on what went well (and what could have been better) this year.
• Dream of how 2022 can be in service of your values, intentions, and highest good.
• Plan for how to make it happen using the OKR (objectives & key results) system.
You deserve to reflect, dream, and plan!
Why should I attend the Gutsy 2022 Planning Session?
You deserve this. Period.
That's truly reason enough, but here's a little more. It's important to take time reflect, dream, and plan. Without thoughtfully considering what went well (and what didn't) in the last year, you may unnecessarily reinvent the wheel and re-live past mistakes. Without knowing what you really want personally and professionally, you'll blindly take actions and hope they turn into something great. And failing to plan, as they say, is planning to fail … it's hard to get where you're going without a map.
Most importantly, signing up for this session means you're far more likely to make it a priority. You'll actually put the time into your calendar and do the work. When you don't put money on the line, and don't schedule the time, you may end up saying you will get to some real planning but never actually make it happen.
So again, you deserve this, friend.
During this 3-hour session, coach Becky Mollenkamp will guide you through a series of reflection questions to consider what did and didn't work well—both personally and professionally—in 2021. With that understanding, we'll move into envisioning what's possible for 2022—what you want more, less, or none of, and what you want that's entirely new. Finally, we'll take all of those big ideas and break them down into actionable steps (for the year, quarter, and months).
Becky will walk you through how to use the OKR (Objectives & Key Results) system for goal setting and planning. She'll share and walk you through a spreadsheet that you can customize and use year after year to continue your OKR planning.
This session is for anyone who wants a little guided support in making big plans for 2022. The first 2 hours of reflection and dreaming are well suited to literally anyone. The third hour when we cover the OKR method is generally best suited to business owners, but can also be modified and used by anyone with measurable personal and/or professional goals.
A structured session is also great for people who tend to promise themselves they'll make time for planning, but never make it happen on their own. When you sign up, you'll get quick links to add the session to your calendar so you can commit to taking time and showing up.
What do I get when I sign up?
Your payment includes the 3-hour planning session (live and/or replay recording) and the guided coaching and planning that involves, reflection and planning workbooks, and an OKR spreadsheet template that you can customize for your needs year after year.
What if I can't attend the session live?
The 3-hour session will be held live on Wednesday, Dec. 1st from 11 am to 2 pm Eastern Time. There's benefits to being there live—making it a priority on your schedule, the ability to ask Becky questions, and the opportunity to get support from other attendees. That said, live attendance isn't required. A replay video will be made available within 24 hours, and you'll also get access to everything included above.
"With this information, I was able to clearly set goals, prioritize them and make an action plan. I am so much more focused with my daily tasks and to-do's. I also have a filter now to weed out the noise and stay on track with my plans." —Femy
The Gutsy 2022 Planning Session is offered on a sliding scale:
If most of these attributes apply to you, consider the $25 option:
• No advanced education
• Receive public assistance
• Have significant debt
• Have no savings/retirement
• Unable or difficult to work due to illness, neurodiversity, other issue
If most of these attributes apply to you, consider the $50 option:
• Completed some college
• Rent a home
• Have moderate debt
• Have some savings/retirement
• Family or friends could help financially in a time of need
If most of these attributes apply to you, consider the $75 option:
• Have a college degree
• Own a home
• Have little to no debt
• Have savings/retirement + inheritance or family paid for your education or other experiences