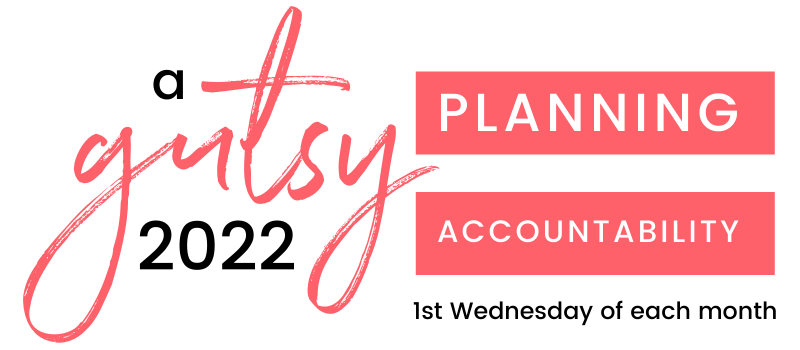 Let's make 2022 your best year yet!
Need help maintaining momentum and motivation?
Setting goals is one thing. Taking action on them is quite another. If you struggle with stick-to-it-iveness and know that a little accountability goes a long way, then this is for you.
On the 1st Wednesday of each month (at 10 am Central), join feminist life coach Becky Mollenkamp and other goal getters to:
• Reflect on what worked and didn't over the last month.
• Adjust your mindset and actions to keep you moving in the right direction.
• Plan exactly what you'll do to move the needle on your goals for the next 30 days.
You deserve to reflect, dream, and plan!
Why should I sign up for Gutsy 2022 Planning Accountability calls?
You deserve this. Period.
That's truly reason enough, but here's a little more. You don't want to end 2022 feeling like you could have (or should have) done more to reach your goals. Without taking time each month to thoughtfully consider what worked (and what didn't) in the last 30 days, you're less likely to maintain your motivation over the entire 365 days. Failing to plan, as they say, is planning to fail … it's hard to get where you're going without a map.
Most importantly, signing up for these accountability calls means you're far more likely to make it your goals a priority. You'll actually put the time into your calendar to show up for and check in with yourself. When you don't put money on the line, and don't schedule the time, you may let your goals slip.
So again, you deserve this, friend.
What should I expect during these calls?
During these 1-hour workshops, coach Becky Mollenkamp will guide you through a series of reflection questions to consider what did and didn't work well each month. Consider what adjustments (to mindset, actions, or both) will help you in the coming month. And then map out your to-do list for the month ahead so you know exactly what steps you need to take to continue making progress toward your big goals.
These monthly group accountability calls are for anyone who knows they do best with a little guided support and community. If you're the type of person who is most likely to take action when you have regular reminders and encouragement, then committing to these sessions on your calendar will be a big boost.
These calls are also great for people who tend to promise themselves they'll make time for planning each month, but never make it happen on their own (and instead tend to "fly by the seat of their pants" and end up frustrated by their haphazard actions). When you sign up, you'll get quick links to add the session to your calendar so you can commit to taking time and showing up.
What do I get when I sign up?
Your payment includes access to 12 group calls (1 per month in 2022)—live and/or replay recording. Each month you'll get a worksheet to guide you through the reflection and planning process, plus workshop-style coaching from Becky and support from the others on the calls.
What if I can't attend a session live?
These 1-hour sessions will be held live on the first Wednesday of each month in 2022, from 11 am to 12 pm Eastern Time. There's benefits to being there live—making it a priority on your schedule, the ability to ask Becky questions, and the opportunity to get support from other attendees. But a replay video will be made available within 24 hours if there are certain months when you can't attend live.
"With this information, I was able to clearly set goals, prioritize them and make an action plan. I am so much more focused with my daily tasks and to-do's. I also have a filter now to weed out the noise and stay on track with my plans." —Femy
The Gutsy 2022 Planning Session is offered on a sliding scale:
If most of these attributes apply to you, consider the $10 option:
• No advanced education
• Receive public assistance
• Have significant debt
• Have no savings/retirement
• Unable or difficult to work due to illness, neurodiversity, other issue
If most of these attributes apply to you, consider the $15 option:
• Completed some college
• Rent a home
• Have moderate debt
• Have some savings/retirement
• Family or friends could help financially in a time of need
If most of these attributes apply to you, consider the $20 option:
• Have a college degree
• Own a home
• Have little to no debt
• Have savings/retirement + inheritance or family paid for your education or other experiences
This is a one-year program that is meant for folks who want to commit to receiving accountability for the entirety of 2022.
(Receive 1 month free if you pay upfront for the entire year.)